The
Ford Super Duty near Clarksville IN
has always been the choice when discussing rugged power, masculine stature and getting the job done. Its measure of success is the historical landmark of all things truck. Paired with a frame and build designed to carry maximum capacities, the Super Duty can handle anything thrown its way. Recognizing the importance of comfort, the Super Duty offers features that provide a relaxing and pampering cockpit. After spending a hard day in the elements putting the Super Duty to the test, interior comforts offer a tranquil ride back to the ponderosa.
Power with Purpose
With a surplus of possibilities, the
Ford Super Duty near Clarksville IN
comes available with a variety of power source options. The 7.3-liter pushrod V8 gas fed engine comes ready to conquer any job at hand. Another selection available is the third generation Power Stroke V8 diesel engine. Rumbling with confidence, this power source provides an astounding 1,050 ft.-lb. of torque. With that kind of power, the Super Duty can tow just about anything available. No matter if solace is found in the diesel or the gas-powered option, both come ready to roll with Ford's TorquShift 10-speed automatic transmission. Surpassing all other heady duty pickup truck on the road, the Super Duty offers more of that famed torque with the Super Duty power takeoff (PTO). Providing additional efficiency, the 10-bolt PTO mounting configuration provides a more superior mounting option for larger PTO devices. This feature provides for maximum torque reception. With all of the available power, the Super Duty was designed with an impressive braking feature. Combined with the Turbo Diesel, the Super Duty encompasses a driver-activated exhaust braking system. Restricting the turbocharger's exhaust flow, back pressure is generated and slows the vehicle. The payoff is increased vehicle control with less wear on braking equipment. The Super Duty leaves nothing on the table when it comes to power, towing and performance.
Ford Super Duty near Clarksville IN: Looking Up
One of the must do challenges of owning a Super Duty is customizing it for an even more unique driving experience. This is hard to do with the technology and features provided as factory options in each of Ford's available packages. Recognizing that Super Duty trucks are piloted by strong willed people, The Super Duty comes outfitted with switches in the overhead console that stand ready to be paired with a personal add-on feature of your liking. Because they are factory installed, there is no need to tamper with the Super Duty's electrical system. With six additional overhead switches, the challenge is finding six additional accessories not already installed and ready for use.
Nonstop Wi-Fi
The Ford Super Duty near Clarksville IN tantalizes the techies with FordPass Connect. Powered by AT&T, Super Duty passengers now have the luxury of a 4G LTE in-vehicle Wi-Fi hotspot. Connectivity allows for up to 10 devices to be paired at one time. That is more devices than the Super Duty has seats! While FordPass tracks data usage, the Super Duty's hotspot has a 50ft radius of reach around the vehicle. With reach like this, the possibilities are endless.
Angel at your Side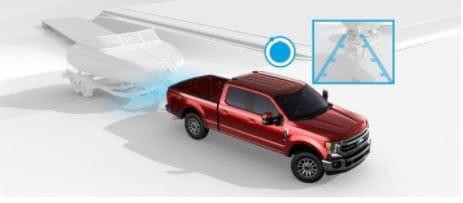 Serving as the Super Duty's navigator, Ford Co-Pilot360 technology can be found within. Packed with driver-assist features, safety and convenience are paramount. Pro Trailer Backup Assist makes maneuvering simple at the turn of a knob. Pre-Collision Assist with Automatic Braking alerts the driver of a potential collision and can render control of the vehicle's brakes in an emergency. Adaptive Cruise Control partnered with Forward Collision Control further notifies the driver of potential collisions and allows for slowing and stopping while using cruise control functionality. The Super Duty's Blind Spot Information System enhances safety and allows for lane change ease with while towing trailers up to 33 feet in length. Rush hour traffic is no longer a trigger of anxiety while towing that cherished boat. Lane-Keeping Alert keeps the Super Duty in check and chimes when drifting out of its lane. Setting the standard in safety, the Super Duty provides super protection. To learn more about Ford's latest version of the Super Duty, contact Jim O'Neal Ford at 516 S Indiana Ave Sellersburg IN 47172.