The
2021 Ford Escape near Charlestown IN
longs for nothing more than to provide transportation for the spirited driving enthusiast. Destination is of no importance, nor is the cargo carried. The Escape can handle anything necessary to serve as a weekend road trip command vehicle or the family truckster delivering the kids to soccer practice. With its aesthetically pleasing façade, the Escape has no issue delivering for an elegant night on the town as well. 
Inside and Out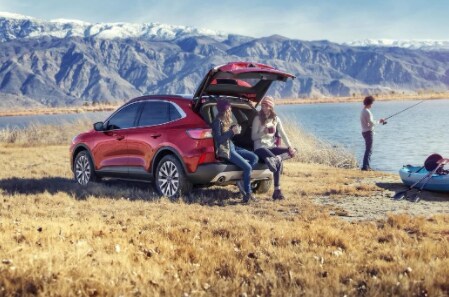 Completely redesigned, the
2021 Ford Escape near Charlestown IN
finds itself the latest in automotive eye candy. In addition to providing for illumination, slanted headlights serve as an interesting focal point. Chrome accents around the windows decorate the sides of the vehicle. Aerodynamically turned indentations serve as vents while providing maximum efficiency in combating wind resistance. They also add definition to the modest SUV. Sport rims provide flare along with body-colored mirrors and door handles. Achieving the same marks of excellence, the Escape comes equipped with comfort being the theme. Spacious leg room paired with comfortable seating provides for a spa-like ride. Ample cargo space is found in the rear and can be extended by simply folding down the rear seat. The Escape understands that maximizing every inch adds up to big results. The Escape's panoramic sunroof is a breath of fresh air, even when closed. Comfortable arm rests and strategically placed cupholders help provide a comfortable ride. Push button starting and dial shifting have also found a home inside the Escape along with a decorated wood grain trim in some models. Who would have thought so many amenities could be available in Ford's latest package of re-engineering?
2021 Ford Escape near Charlestown IN: Conventional and Hybrid Power
With a personality driven to please, the Escape comes available with an assortment of power sources. The base model offers the 1.5-liter EcoBoost engine that comes with additional spice known as Auto Start-Stop technology. Those looking for some more horsepower can find it with the 2.0-liter EcoBoost. Keeping the masses happy, it comes with Auto Start-Stop technology as well. Catering to the far thinkers. Ford found it notable to serve up the Escape on a platter with an available Hybrid 2.5-liter IVCT Atkinson-Cycle-I-4 engine. With these various options available, the Escape provides for an easy route of entry into any driver's heart.
Different Modes for Different Driving
Because the 2021 Ford Escape near Charlestown IN appeals to so many differing driver types, Ford felt compelled to design the vehicle to accommodate an anywhere driving location. Selectable driving modes make those dream destinations a reality. Normal Mode is utilized for everyday driving and allows for a mixture of excitement and convenience. Eco Mode finds its stride with long distance driving. Delivering maximum fuel efficiency, increased driving range is accomplished. Sport Mode stokes the driver's inner fire while increasing throttle and provides quicker shifting functionality. Handling and control are considered great in importance while the suspension stiffens to help with cornering. Slippery Mode is the choice selection ice, water, grass, and anything else other than concrete. Deep Snow/Sand Mode takes off road to another level and allows for domination over destinations that may have never been considered.
Technological Utopia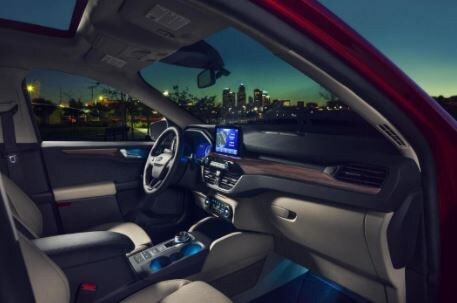 When it comes to the Escape, Ford followed a consistent mantra, bigger is better. Although they could have stopped early on with technological features, Ford just kept going with the Escape. A plethora of driver assist functions come available in Ford's Co Pilot 360. Pre-Collision Assist and Automatic Emergency Braking protect the Escape from surrounding traffic. Automatic Emergency Braking will halt the vehicle when needed in an emergency. Lane Keeping Assist helps keep the Escape in its own lane while travelling down the road, destination anywhere. Adding another layer of convenience, the Rear-View Camera makes self-check and reverse simplistic in nature. The Blind Spot Information System and Cross-Traffic Alert protects the Escape's flanks from unexpected contact. Rounding out a robust offering of safety and technological advancement, the Escape comes equipped with Ford's Heads-Up Display. Driving statistics and vehicle speed are projected above the dashboard and in the driver's view. Drivers' eyes never have to leave the road again. To experience everything the Escape has to offer, contact Jim O'Neal Ford at 516 S Indiana Ave Sellersburg IN 47172.