If you need a vehicle that's sturdy and dependable even in the most rugged of conditions, you should look at the all-new 2017 Ford F-150 Raptor. It performs well in any kind of terrain. It takes you to any adventure of your choice while inside, you get to stay comfortable and in place. Pretty much, this is the one truck that can handle any kind of adventure you're up for.
No Other Truck Is Sturdier Than The 2017 Ford F-150 Raptor
The 2017 Ford F-150 Raptor is the leanest and meanest pickup truck out there right now. It is built to be 500 pounds lighter using a number of highly advanced materials. These include its tough military-grade aluminium alloy body as well as cargo bed. Meanwhile, the truck's body is made up of high-strength steel frame. Together, this truck enjoys a much improved power-to-weight ratio by more than 16 percent.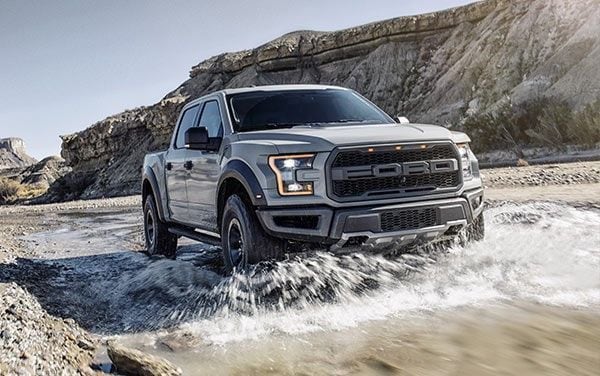 You can hit any trail fast and hard, the 2017 Ford F-150 Raptor won't really mind. After all, it's got a suspension that can handle just about anything and it's also been upgraded with improved travel performance on both the rear and front.
Incredible Raw Power
When it comes to power, the 2017 Ford F-150 got more than you will ever need. This is because it utilizes a very powerful twin turbo 3.5 liter DOHC EcoBoost engine with direct fuel injection. It readily churns out 470 foot-pounds of torque while utilizing a 10-speed transmission.
This truck's engine also uses Ford's new dual exhaust technology. This way, more oxygen is able to come in, allowing for this pickup truck's engine to deliver top performance in just a matter of seconds. In fact, the 2017 Ford F-150 can reportedly go from 0 to 60 MPH in just 6.1 to 6.3 seconds.
Remarkable Terrain Performance
When you start driving the 2017 Ford F-150 Raptor off road or even uphill, you can readily rely on this truck's onboard Terrain Management System. What this does is provide you with six unique terrain modes that help the truck adjust to whatever kind of road you are currently driving on.
For everyday normal driving, you can simply go for the Normal or even Sport mode. When the road gets slippery or wet though, you can easily switch to the Weather mode. Meanwhile, for rougher off roads, you can choose between the trucks Baja, Mud/Sand or Rock/Crawl modes.
Keeping You Comfortable And In Place
To keep your ride fun, the 2017 Ford F-150 Raptor features some bolstered front seats with ingenious contrasting stitching that will easily help keep you in place in case the ride gets rough. Not to mention, it's very comfortable too.
Go ahead and inquire about the 2017 Ford F-150 Raptor today by visiting Ford dealerships serving New Albany, IN.
Sources:
2017 Ford F-150 Raptor, Brochure
2017 Ford F-150 Raptor, CarandDriver