Before the compact crossover segment became such a popular place for new car purchases, the Ford Escape was already a player in that segment and has been for years. Now that more drivers are choosing SUVs and crossovers as their everyday commuters and family haulers, the
2021 Ford Escape near Louisville KY
is quickly becoming a major player in the industry.
Most drivers that choose crossovers are doing so for three main reasons: the availability of AWD, versatility, and a higher driving position. The drivers that truly want off-road capabilities and more ground clearance will find those in the Bronco Sport, which is about the same size. The Escape is more domesticated; it's more comfortable, more fuel-efficient, and roomier. It has better handling and is also offered in two different hybrid versions, something that the Bronco Sport and very few rivals offer. And with a starting price below $25 K, it's a great value.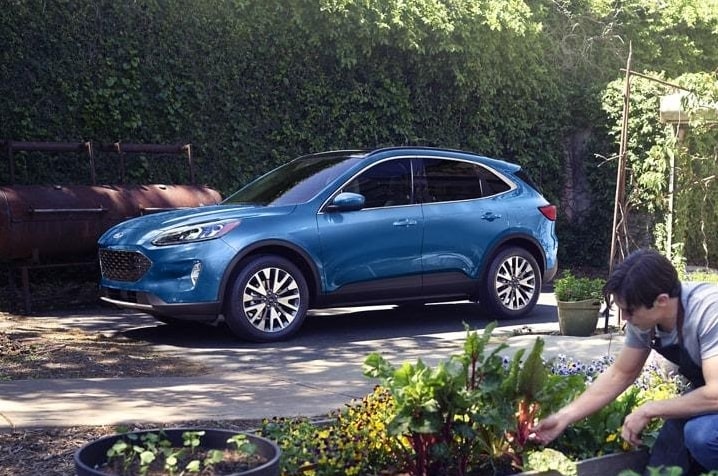 Having undergone a redesign for the 2020 model year, with more driver assist features becoming standard and an overhauled engine roster, the Escape received no major changes for 2021. The big news for this model year is the addition of a plug-in hybrid to the lineup. Trim levels include the base S, SE, SEL, and Titanium, and there's now an abundance of configurations available for the
2021 Ford Escape near Louisville KY.
No matter which set-up you decide upon, the Escape will delight you with its fuel economy numbers. The base engine is a 1.5 liter EcoBoost 3-cylinder turbo that puts out 181 hp paired with an 8-speed automatic transmission. The front-wheel drive (FWD) version rates 27/33/30 mpg for city/highway/combined, and the AWD model is rated 26/31/28 mpg by the EPA.
If you choose the 2.0-liter turbo four with 250 hp you'll get significantly more power while still getting good gas mileage with 23 mpg city, 31 highway, and 26 combined. This engine comes exclusively with AWD.
The regular hybrid model, with 200 hp, has a 2.5-liter gasoline engine and an electric motor, and with FWD it rates 44/37/41 mpg city/highway/combined. Change to AWD, and the Escape Hybrid rates just 1 mpg less for city and combined, and the same 37 mpg for highway.
Finally, the new Escape PHEV (Plug-In Hybrid Electric Vehicle), which only comes in FWD, rates 102 MPGe by the EPA, or 41 mpg combined when only running on gasoline. It has an electric-only range of 37 miles, but the total range is over 500 miles. This version puts out 200 hp and along with the Escape Hybrid, has a continuously variable transmission.
2021 Ford Escape near Louisville KY: Handling and Safety
You'll be thrilled at how well the 2021 Escape handles and the smooth ride it delivers, especially since it's so affordably priced. All the engines feel lively and steering is effortless. It's also surprisingly quiet inside thanks to noise-reducing acoustic glass and soundproofing. Strangely enough, the noisiest model in the lineup is the hybrid, with its typical whining and whirring electric motor sounds and a slight rumble from the gas engine upon acceleration.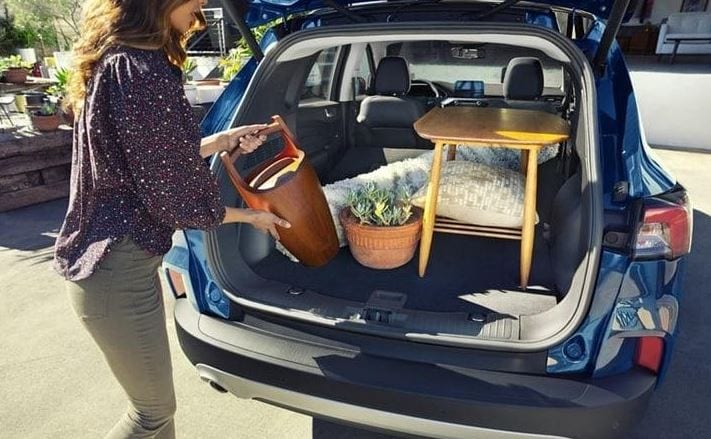 There's plenty of room in the front and back, and rear legroom is fantastic thanks to the six inches of movement forward or back from the rear bench seat. There's lots of room for cargo as well, with almost 38 cubic ft. of space behind the back seat, and over 65 cubic ft. with the seat folded flat. Because of the underfloor storage of the battery, the hybrids have somewhat less cargo space.
The 2021 Ford Escape near Louisville KY comes standard with CoPilot360, Ford's suite of driver-assist and safety features. With the SE and higher trims, the next step CoPilot360 Assist comes standard, which includes adaptive cruise control and evasive steering assist. As trims increase, so do the driver aids along with a plusher interior.
The best way to discover all the 2021 Ford Escape has to offer is to visit us here at Jim O'Neal Ford to test drive an Escape and get an up-close look. We're located at 516 S. Indiana Avenue in Sellersburg, IN and we look forward to seeing you!