After an absence of more than 20 years, the
2021 Ford Bronco near Louisville KY
will make its 21st century debut in the spring of next year. This modern version pulls much of its vitality and moxie from the iconic 1966 original.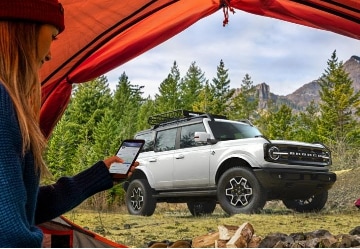 The much anticipated return of the classic and most rugged Ford SUV sees it pitted against two other off-roading icons, the Jeep Wrangler and the Land Rover Defender. However, the new Bronco is a cut above its competitors, and actually any other vehicle, due to its modular construction and ability to be totally customized. Fenders, doors, and even entire body pieces can be detached with ease, and tons of hard mounting points are hidden all over, to help you accessorize all you want. And of course the Bronco comes with all the off-road features you need to subdue the wild outdoors!
The 2021 Ford Bronco near Louisville KY will be available in two-door and four-door styles that are both body-on-frame vehicles like a pickup truck (true Sport Utility Vehicles). It's loosely based on the Ford Escape compact crossover SUV, but that's where the similarities end. The modern Bronco mirrors the old-school mood and off-road origins of its predecessors with its optional manual transmission and lots of evocative details. The interior layout is uncomplicated but filled with new technology and the safety features you expect for 2021.



2021 Ford Bronco near Louisville KY: Trims


Six trim levels offered on the 2021 Bronco and if you include the limited-production First Edition model the total rises to seven! The most affordable option is the base trim, which comes with all the essentials. The most important aspects of the Bronco, however, still remain intact.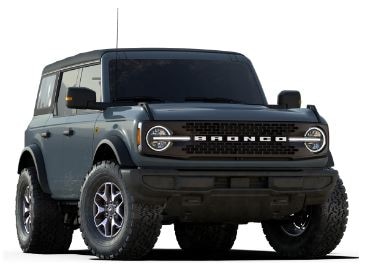 Moving upwards through the trim lineup, the next level is Big Bend which adds some comfort features to the standard issue. Heated seats, remote start, and aluminum wheels are some of the amenities that are available. Higher trim levels include Black Diamond, which adds gear for more adventurous off-roading capabilities, Outer Banks is the next higher trim, and it includes more comfort and convenience inside, along with 18-inch wheels and other attractive yet functional features on the outside.
Next up is the Badlands. A choice of huge mud and all terrain tires plus several interior options round out this model. The Wildtrak comes standard with the Sasquatch package: 17-inch wheels mounted on giant 35-inch all-terrain tires, the Bilstein shocks, and the front and rear locking differentials. A standard 2.7 liter twin-turbocharged V6 with a 10-speed automatic transmission sits under the hood, while black wheels, a black grille, and exclusive hood graphics adorn the outside.
 
The limited production (only 7,000 nationwide) First Edition
2021 Ford Bronco near Louisville KY
is fully loaded and combines the best features of all the available trims. Even though production just recently began, the reservations list is already full.
Power

The standard engine for both the two- and four-door models is the 2.3 liter EcoBoost 4-cylinder which puts out an impressive 270 hp and 310 lb-ft of torque. For more power there's a turbocharged 2.7 liter V6 that produces 310 hp and 400 lb-ft torque. Many enthusiasts will be happy to see that the 2021 Ford Bronco near Louisville KY is offered with a 7-speed manual transmission; one of these forward gears is a crawl-gear for heavy-duty off-roading. Sadly, it's only available with the base engine. A 10-speed automatic can be had with the base engine as an option. Every Bronco comes standard with a two-speed transfer case. It's also been confirmed by Ford that a hybrid powertrain will eventually be offered. With maximum ground clearance at 11.6 inches, the new Bronco can ford through 33 inches of water, and when properly equipped it's rated to tow up to 3500 pounds-just like the Jeep Wrangler.


So far, it sounds like the all new Ford Bronco is ready to give Jeep and other trail-blazing, rock-crawling SUVs a real run for the money! Stay connected with us at Jim O'Neal Ford, located at 516 S. Indiana Avenue, Sellersburg, IN for more Ford updates.