The
2021 Bronco Big Bend in Sellersburg IN
is a member of the brawny Bronco family. It presents an exhilarating driving experience and is prepared to conquer any terrain it's faced with. Ford offers eight trim levels designed for various adventures for you to choose from ensuring you will find the perfect Bronco for you and your adventurous needs!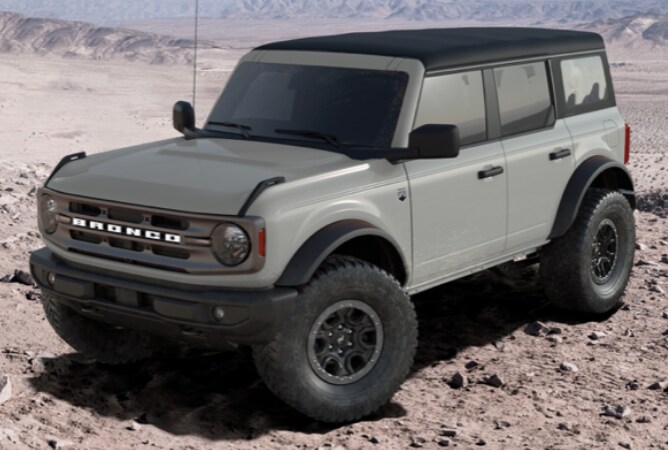 2021 Bronco Big Bend in Sellersburg IN: Bronco
For off roading and a variety of standard features the
2021 Bronco Big Bend in Sellersburg IN
is the Bronco you want to explore. It is available in 2 door and 4 door models. Features offered includes a combination of conveniences and safety technologies plus extra amenities to customize your Big Bend to suite your needs. When exploring the outdoors, you can remove the doors and the top to experience the environment around you without limits. 
Features
Standard interior conveniences included in the 2021 Bronco Big Bend in Sellersburg IN like dual temperature controls allowing you and your passengers to each set the temperature at a different temperature. For driving challenging terrain, you can select between six different driving modes based on the terrain. If you like the convenience of not having to take your key out to start your vehicle then you will want to take advantage of the remote start feature. The ambient lighting sets a warm and welcoming feel inside your 2021 Bronco Bing Bend.
Technology
Big Bend offers the Ford Co-Pilot360 Technology package, Sasquatch Package, and Mid Package. The Sasquatch package comes with massive tires, impressive wheels, and hefty shocks. The Mid Package has a combination of conveniences and safety features to make your ride more enjoyable and relaxing.
Sound System
An adventure just isn't an adventure without music blasting throughout the cabin as well as the convenience of hands-free talk. In your Big Bend you can opt for a premium sound system with a larger touchscreen that allows you to swipe. 
Off-Road
For off road quests your Big Bend offers several engines and transmissions for you to choose from. Choose the engine that best suits your needs. If off roading is up your ally, then you may want to add the On-Demand option as well as other off roading amenities that will enhance your off-road experience. No worries if you get a flat tire since the Bronco Big Bend come with a full matching spare tire. Taking a camping trip in your Bing Bend you bring a mini/portable refrigerator since you will have an outlet.
Visit Jim O'Neal Ford
Jim O'Neal Ford can answer any questions you may have regarding the new 2021 Ford Bronco Big Bend. Our team can assist you with preordering your customized Bronco. Come by and allow our knowledgeable product specialist to educate you on the standard features and the many optional features you can add to your Big Bend. 
Stop in and browse our showroom and to meet our magnificent team members, located at 516 S Indiana Ave. Sellersburg, IN 47172. Let our incredible team assist you with all of your Ford needs.